Squat with Front Lift of the Sand-Pads
Degree of Difficulty

60%

60%
Raise the Sand-Pad after doing the Squat
Short Description
Legs are bent. Hold the Sand-Pad with extended arms below the shoulders.
Move the Sand-Pad to chest level while keeping your arms extended.
Move the Sand-Pad down again and bent your knees to 90°.
Long Description
Your feet are shoulder-wide in the initial position. The toes are pointing to the front or slightly to the sides. Your legs are bent to 90°. Your back is in a straight position. Hold the Sand-Pad right below your shoulders shortly above the floor.
Don't move the Sand-Pad by swinging it. Raise the Sand-Pad with your shoulder muscles with extended arms to chest level. At the same time raise your buttocks and extend your hip. Make sure that your centre of gravity is on your heels.
Bent your legs again and bring down your buttocks. Move your extended arms to the floor into the initial position.
Tips
Additional exercise instructions
The Sand-Pad exercise Squat-up Front Lift is a combination of a squat and a Front Lift. In contrast to the "Swing" not the hip-drive is responsible for the weight raising, but the shoulder muscles.
Related Sand-Pad exercises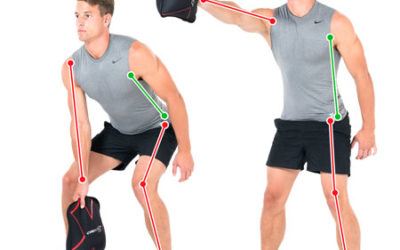 The Sand-Pad exercise One Arm Swing is similar to the Kettlebell-Swing. The Swing trains the back of the thighs and additionally activates the buttocks and the lower back.